1895: Cobb and Co. on the job
February 2, 2019
By AHNZ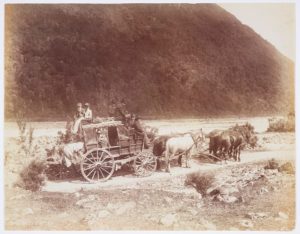 February 1895: Cassidy's stagecoach, West Coast Road near Otira Gorge. The local service took the brand name 'Cobb and Co.' and was well established by this point.
This photo collected as a postcard (or perhaps photographed personally) by the Sir Francis Boileau during a family trip from England. The Knight and his Lady, and 3 children, were visiting New Zealand from 1894-1895 and then on to Australia.
Sir Francis was "a justice of the peace and Deputy Lieutenant for Norfolk and a Fellow of the Royal Society of Literature and the Society of Antiquaries."- ref wiki
—
Ref. DISCO post about Cobb & Co.
c.12/Feb/1895; You can probably figure it out but have to really squint
Image ref. Boileau family album; National Library of Australia
Like Comment Share