1973: Nazi Role Models
March 5, 2019
By AHNZ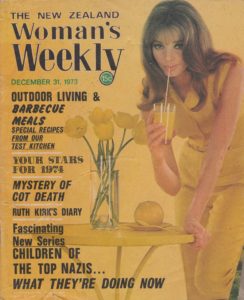 1973, Why is the Woman's Weekly reader concerned about how things worked out for the Nazi reproductive/social strategy?
My answer is that there is a healthy drive in every one of us to know the long-term consequences of different life choices. We want to know that the good go to heaven and the evil to hell in some sense.
I think we watch the lives of high profile groups and celebrity individuals out of an interest to know if what they did has worked. If Jean Batten dies in a hovel from a mongrel dog's bite, it's a lesson. If Hugh Hefner gets to 91 that's validating of the hedonistic glam life. If Lloyd Geering gives God the finger but lives to 101 (and counting) without even ageing much or losing a step since 1967…..
Nazis are a prominent group in our history. We want to know they got their comeuppance.
—
Image ref. Owain Morris; Growing up in Dunedin in the 60's, 70's, 80's & 90's; Facebook
note The most logical title would be 1973: Nazi Role Models * √1 but very few would understand
Like Comment Share