1863: Mass Deaths in Otago
April 11, 2019
By AHNZ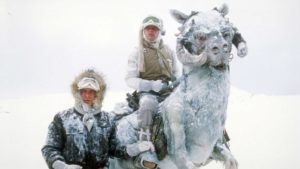 Central Otago Diggers had a damn hard winter in 1863. Scores of men died on the goldfields from the cold and snow but it was only the beginning of the death toll to follow.
At Gorge Creek a camp of diggers was cut off by snow (perhaps 6m deep) from their supplies at Roxburgh and Alexandra. Desperate, some tried to force their way through the show and the cold to the main road (State Highway 8 now.) Some 20-30 of them died trying..
One who had a near escape was a packer. He was leading his horse through the deep snow until he could proceed no further- cold and exhaustion brought him to a halt. The paralysing numbness he had learned to fear was creeping over him and he was utterably tired.

[…]

There was only one way that he could see which would save his life, but to follow it meant he had to sacrifice his horse. Bother were doomed if he did not follow this course so the horse was killed and disembowed. The man curled himself inside the cavity between the ribs and in that place of shelter he found sanctuary. The new day found him alive. – ODT 17/8/1957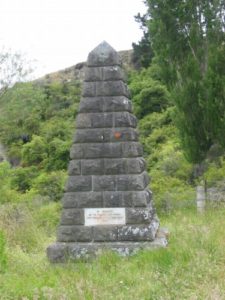 Empire Strikes Back hadn't even been made yet. How did he know to get inside his Tauntaun?
No State help; No Police search parties, no coroners. After the thaw the bodies were found by their fellows and buried either side of the road. This cairn (pictured) erected much later, 1927, remembers them.
Tragically, the thaw brought its own devastation to rival the blizzards and snow drifts. In July warm rain melted snow to leading to great floods. Up the road at Arrowtown an estimated 100 men were killed. 1,500 men were on this site working the gold as recently as December previous year so the numbers may well be higher. According to the Herald article, "unofficial estimates at the time put the toll at between 100 and 200" for the storms. Add to that at least 100 for just the one flood in Arrowtown.
Hard times in a tumultuous 1863 for New Zealand.
—
Image ref. Otago Goldfields Heritage Trust
ref. Dozens of Otago goldminers died in ferocious storms of 1863; Herald
ref. AA Book of NZ Countryside (1978)
Like Comment Share