1936: Mickey Mouse in the French Foreign Legion
January 25, 2019
By AHNZ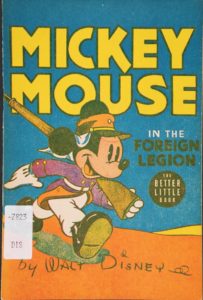 Mickey Mouse in the foreign legion!? This children's book was published in Wellington by Valentine Publications. Seemingly based on a 1936 comic strip. Not being able to read it we are left to speculate (good, that's my favourite!)
New Zealand's WWII children were probably happy to hear about their friend Mickey joining the French Foreign Legion to fight for the good guys. He was probably assigned to North Africa and may have fought alongside the New Zealanders stationed there. Perhaps the ANZACS and Mickey Mouse defeated Rommel together? The scraps I found though suggest Mickey had his hands full with those pesky Muslims.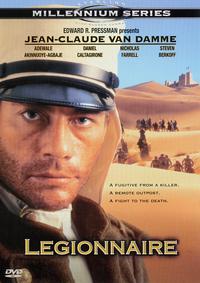 I otherwise shall assume Mickey's adventure is identical to the Jean-Claude Van Damme's in Legionnaire (1998) which I have seen. Neither plot involves the strange sexual and cultish truth of the organisation, I'm sure. According to Jean-Claude's film, the only way to get out of the Legion again is to survive your five-year term of service contract. Will Mickey make it home to Epcot alive or will be be sent home in a shoe box?
New Zealanders have a long tradition to this very day of 'running away' to join the foreign legion before and after Mickey set the example to children. I can't find any statistics but I'm sure there must be dozens of men who have done it.
—
note: The 1930s were a time of high Physical Culture and you can really appreciate that when even our children's cartoon mouse is off to war to march and fight!
Image ref. Reedgallery.co.nz
Like Comment Share