2018: St James Hall burns
December 31, 2018
By AHNZ
Sorry to say I told you so but the politically convenient inflammability of Red Tape principle has struck Mt Eden's St James Hall sure enough. Would I be quite out of line in suggesting that the serial mystery arsons burning down inconvenient historic and stalemated developments happen on purpose? I keep noticing them, as pointed out in this earlier post.
It hasn't taken long for the burning to occur, the legal appeal was lost only about a week ago. That prompted me to update the following expectations from March and post them to this website..
Possible solutions traditionally and recently employed might involve putting up some homeless arsonist to move things along, or hitting the building with some well-placed kamakazi council trucks. For a large, concrete, immovable, incombustible, object that's a bit of a stumper though isn't it?- 1885: St James hall, Mt Eden; AHNZ, December 22, 2018
Turns out the Hall's roof was plenty combustible after all and up she went.
Firefighters will remain on scene at the old St James hall on Esplanade Road in Mt Eden overnight to dampen any hotspots.- Radio NZ, 31/12/2018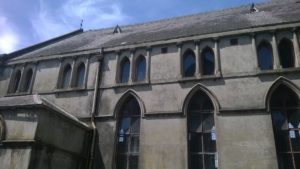 Being a Free Market guy I'm willing to let buildings like this go when the people who love them clearly cannot value them enough to keep them; When there is insufficient demand. For one thing I'm disappointed with the Presbyterian Church for losing so much territory and relevance and for scrapping among themselves.
Above all though is the horrible Statist way we treat each other and our history. "Every man has his price and the Kiwis, being lower than most, his corruption is not highly visible,"; McLauchlan. Rather than fair dealing, business and heritage is not put above being conducted by a stab in the back or an arson in the attic.
—
Previous posts:
1885: St James Mt Eden, Part II; Conjuring a Demolition
Image ref. AHNZ, December 2017
Image ref. Radio NZ
Like Comment Share